On September 24, 2012, the Xi'an Cummins Service Provider Conference 2012 hosted by Xi'an Cummins ended at the Golden Flower Hotel in Xi'an. This service meeting was the first service provider conference for Xi'an Cummins. The meeting was based on Xikang positioning, product advantages, and market analysis. The Xikang service targets and policies were shared and interpreted with service providers from all over the country. Through this conference, service providers from all parts of the country learned Xikang more comprehensively and deeply, and also developed Xikang. The future is full of confidence.

The theme of this service provider's meeting is "Trust your heart to win." "Xin" is, first and foremost, trust. With the trust of service providers in Xikang, there has been a smooth development of Xikang services throughout the country. With Xikang's trust in service providers, we have a policy support that is better than service providers. "Xinxie" is also a confidence that Xikang believes that in the future market, Xikang will win a certain market position with its product performance advantage, and service providers also believe that in the long-term cooperation with Xikang, it will be common with Xikang in the future. As they grow up, they will also get their success; "Heart" is faith, intention, gratitude, confidence in the future, customer service intentions, and mutual gratitude for step-by-step success. It is for Xikang. The common commitments and requirements for service providers and customers. "Win" is the ultimate goal of all actions. The "winning" of Xikang's services lies in a win-win situation. Customers' satisfaction with services, service providers' success, and Xikang's competitiveness in the market are the same as "winning." Different manifestations, and to achieve this goal requires the joint efforts and efforts of Xikang and service providers. Only by implementing various actions can the ultimate win-win goal be achieved.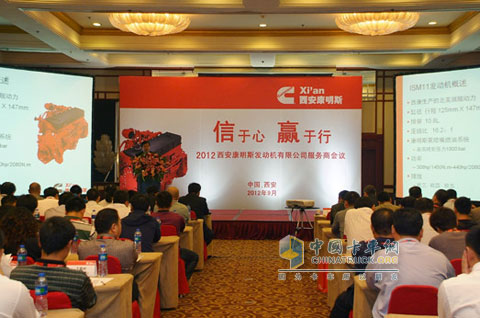 Xi'an Cummins Service Provider Conference

At the beginning of the conference, Mr. Meng Jikui, the general manager of Xikang, introduced Cummins's organizational structure and Xikang's development and prospects from Cummins to Cummins China and Xi'an Cummins. These introductions made service providers understand that Xi'an Cummins has a Cummins internationalization as a Sino-foreign joint venture. With competitive technical support, at the same time, Mr. Meng analyzed and looked forward to the future development of Cummins and Xikang based on current policies and market conditions. Mr. Meng pointed out that Cummins's market strategy in China has already begun to change from the high-end market to the mainstream. The market means that Cummins related technologies will be more applicable to China's national conditions, which will make Cummins's related products more competitive in the Chinese market. Therefore, Xi'an Cummins, one of the five engine joint venture plants, will also rely on its product characteristics. Welcome to a better tomorrow.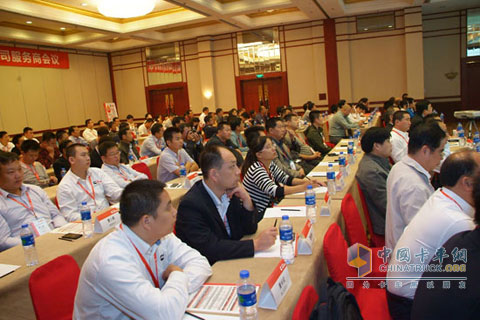 Xi'an Cummins Service Conference

Xikang Chief Engineer Liu Zhili introduced and analyzed Xikang's main product ISM's system characteristics, performance advantages, and competitive advantages. He compared the fuel consumption and safety concerns of users with other products on the market, and analyzed the data in detail. The results all reflect the low fuel consumption and high security features of Xikang's products, especially the intelligent truck management system introduced by Liugong, which enables service providers to feel the advanced technology embodied in safety, use, and maintenance of Xikang products. Zhang Pengchun, director of business development at Xikang, first introduced the situation of the domestic heavy truck market from two aspects of macro-control and product operation. In the shrinking market environment, Xikang's market share has increased, and then Zhang from the policy level to 2013 The heavy truck market made predictions and strengthened our confidence in the future market growth. Finally, Mr. Zhang introduced the market strategy and measures for the future Xikang to better seize the market demand. The expansion of multi-market areas will enable Xikang to usher in better development. .

The service chamber of commerce focused on promoting the Xikang service concept and introducing related policies to service providers. Cai Hong, Director of Xikang Service, explained Xikang's services from all aspects of Xikang's service introduction, service objectives and service value. Mr. Cai proposed that Xikang's service aims to make Xikang's services become market dissemination and promote ISM. One of the main advantages of this service is that the service commitment promised by this goal is fast service, active service, full service, and the ultimate outlook for service is pleasure service, that is, whether the customer, service provider or Xikang can serve After experiencing the desired value in the process, I feel pleasure. Then Xijun Service Department Li Junxi introduced the current Xikang service policy and the forthcoming new policy. Xikang currently has five major policies, including development support policy, parts policy, parts finance policy, warranty claims policy and service climbing policy. Through policy interpretation, examples and comparisons with competing companies, the policy has been explained in a comprehensive manner, enabling service providers to see the clear advantages of Xikang's service policies and the sincerity of the development of Xikang and service providers.

At the service provider award evening held in the evening, a series of videos, photos, etc. showed the hard work and hard work of the staff in the service line. Xikang took advantage of this opportunity to commend the outstanding performance of more than 30 service providers nationwide. Gao Ruijie, the chief of the Tianjin Shazhong Heavy Duty Truck Station who received the award for excellence, spoke as a representative. Rui Ruijie said that the joint cooperation with Xikang in these years has witnessed the development of Xikang and has also achieved their growth. He expressed sincere gratitude to Xikang for its favorable policies. It is also full of confidence for the future development of Xikang.

The service provider conference finally achieved a complete success. After the meeting, several service providers stated that through this meeting, they had a better understanding of Xikang and a clearer understanding of Xikang's service policy, whether it was the performance of the product itself or the favorable service policy. They have greatly enhanced their initiative and enthusiasm for cooperation with Xikang, and they look forward to working with Xikang to create a better future together.

Cable Tray Roll Forming Machine is more and more improtant.

Hangzhou Yibo Machinery Co.,Ltd, founded in 2003 is an professional machinery manufacturer for design, produce, service and trade.

Yibo's main products are Cold Roll Forming Machine, such as purlin Forming Machine , guardrail forming machine, roof panel forming machine, wall panel forming machine, tile forming machine, floor Deck Forming Machine, Roof Seaming Machine and so on; steel coil process machinery such as Slitting Line , Cut to Length Line , combined line and so on; accessory Stamping Parts such as roof supporting clips, connect bar, water bar and so on.




Cable Tray Roll Forming Machine

Cable Tray Roll Forming Machine,Cable Tray Machine,Cable Tray Production Line

HANGZHOU IUWON TECHNOLOGY CO,. LTD. , http://www.iuwon.com