At the opening ceremony of the opening of the new factory in Suzhou, China, Alcoa Wheel China's truck network reporters felt that the deepest was not the event itself, but the charity act of the entire event, the gift bag packed with charity bears to help children's education, and the introduction of public welfare activities. Pages, more senior leaders of Alcoa deliberately specialize in public welfare activities during the event. This is also a scene that reporters rarely see in many activities. These actions reflect the sustainable concept embodied in Alcoa's product production and social responsibility.

Alcoa Wheel: Philanthropy and Environmental Pioneers

Timothy D. Myers, president of Alcoa Wheel & Transportation Products, told China Truck.com.cn. In 2011, Alcoa and Alcoa Foundation donated more than $38 million to non-profit organizations all over the world. The company has been committed to public welfare and environmental protection. Not only that, but Alcoa products also use 100% recyclable aluminum products.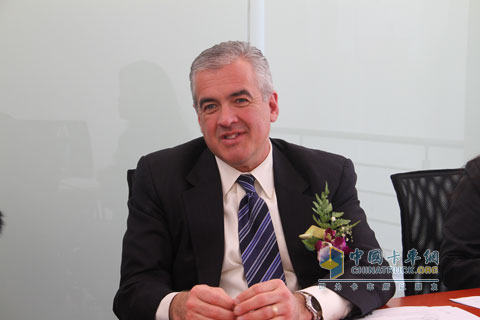 Timothy D.Myers, President of Alcoa Wheel & Transport Products

According to a study on aluminum wheel life cycle assessment, Alcoa forged aluminum wheels have significantly reduced the carbon emissions of commercial vehicles. In North America, the study found that replacing 18 traditional steel wheels with Alcoa aluminum wheels can reduce carbon emissions by 16.3 tons over the life of the hub. In Europe, 12 aluminum wheels can reduce carbon emissions by 13.3 tons after replacing steel wheels. In addition, the study also found that the use of forged aluminum alloy wheels instead of steel wheels was seen as a positive and efficient investment to reduce greenhouse gas emissions in the commercial transportation sector.

Alcoa Wheels: Up to two years recovery costs

In addition to Alcoa's efforts in environmental protection and public welfare, as a manufacturing company, Alcoa Wheel also pays attention to the benefits the product itself brings to its users. Timothy D. Myers said, "Compared to steel, Alcoa forged aluminum wheels are lighter in weight and Unlimited recycling, making vehicles more environmentally friendly, reducing fuel consumption and carbon emissions."

It is understood that each wheel produced by Alcoa can achieve a weight reduction of up to 50%, and each trailer can achieve a weight reduction of up to 300kg, which can effectively increase the load and improve driving comfort. The aluminum wheels made by Alcoa Wheels Suzhou factory are forged aluminum products. It is understood that the forged aluminum wheels are made of solid metal, and the strong texture structure makes its strength four times that of the casting wheels, while the cast wheels are made of melted metal. Shales and bubbles are usually generated. Forged aluminum wheels have higher strength than steel wheels and cast aluminum wheels. Forged aluminum wheels are deformed by only 5 centimeters under a pressure of 7,200 kilograms.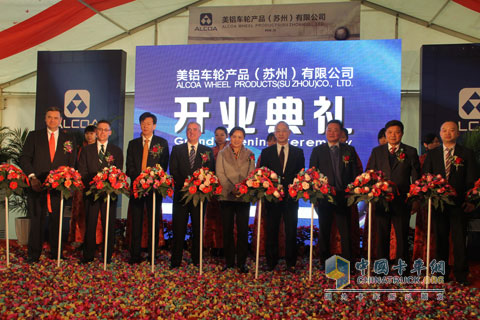 Alcoa Suzhou Aluminum Wheel Factory Opening Ceremony

In addition to the lighter weight and better strength of the Alcoa wheels, Timothy D. Myers told reporters: "Our products have better heat dissipation than steel wheels, and the temperature of long-distance transportation hubs will not be too high; in addition, all aluminum products are born with Corrosion resistance will extend the life of the wheel and reduce the maintenance cost; moreover, the aluminum wheels can be recycled 100%, and the recycling of waste aluminum can also recover the cost."

For users concerned about the aluminum alloy wheel hub recycling cost cycle problem, TimothyD.Myers mentioned that according to statistics, users can recover the full cost within an average of two years, and according to the user's transport product differentiation, most users can recover within a year cost.

Alcoa Wheels: Target Segments for Specific Segments

The use of aluminum alloy wheels in mature overseas markets has reached more than 60%, and Alcoa is one of the best. Although the domestic market takes aluminum products, it still takes time. However, at the just-concluded Guangzhou Commercial Vehicle Show, we also found that Many companies already use Alcoa wheels. For example, Iveco's debut trucks in China and CIMC debut products also use Alcoa wheels and cars.

Timothy D.Myers also told the China Truck Network reporter that Alcoa wheels have been used in China and received positive feedback. Alcoa has established good cooperation with logistics companies such as refrigerated truck transportation and hazardous chemicals transportation. Wheel hubs built in Suzhou will place greater emphasis on dedicated market segments and bring quality products to logistics companies. Alcoa will also cooperate with vehicle companies and logistics and transportation companies respectively. Nowadays, the intensification of transportation efficiency puts forward higher requirements for transportation tools, which requires more advanced and more efficient products for its services. Through the influence of the fleet, more and more users are getting to know Alcoa wheel products and knowing this highly efficient transportation tool product.

Localization is becoming more and more important

Alcoa wheel products landed in Suzhou, localization became the focus of attention, TimothyD.Myers said: "We built a factory in Suzhou, the current forging technology and forged parts are imported from abroad, the finishing part will be placed in the Chinese factory, and we 80% of our colleagues are from China and strive to jointly bring the best products to China."

As a leader in aluminum wheels, Alcoa's entry into the Chinese market is particularly important for developing truck user awareness. TimothyD.Myers mentioned: "China's truck users are very large and can be dispersed. In recent years, with the trend of fleet intensive, intensive transport advantages have become more and more obvious. This provides highly efficient Alcoa wheels. A good platform; In addition, with the requirements of China's laws and regulations on energy-saving and emission-reduction, environmental-friendly wheel products are more recognized by the government and users."

Hydraulic Pump Series,Variable Hydraulic Pump,Custom Hydraulic Pump,Eaton Hydraulic Pump

Jinan Voton Machinery Equipment Co., Ltd , https://www.votonmachinery.com