On April 24th, 2014, the National Science and Technology Major Project "Xichai Heavy Duty Diesel Engine Cylinder Body and Cylinder Head Flexible Processing Line Demonstration Project" Specialized Numerical Control System Meeting was held at the Huishan Base of the Heavy Duty Diesel Engine of FAW Jiefang Wuxi Diesel Engine Factory. The meeting was chaired by Li Jiangang, Deputy Chief Engineer of Xichai Plant. Specialist supervision expert of the National CNC Machine Tool Specialist Li Xiankai, Jiang Huaisheng, supervisor of the CNC machine tool special department of the Ministry of Industry and Information Technology, and Chen Jihong, director of the National Numerical Control System Engineering and Technology Research Center of Huazhong University of Science and Technology attended the meeting.

The meeting informed the implementation of the Xichai demonstration project, and discussed the current status and functional requirements of the numerical control system and the development level of domestic digital control technology. The experts also conducted on-site inspection of the Xichai heavy-duty diesel engine block and cylinder head flexible processing line. After on-the-spot investigation and full exchange, the experts participating in the meeting demonstrated that the Xichai demonstration project and related research topics have been steadily progressed and achieved remarkable results. The agreement was reached on the CNC system plan.

"Xichai's heavy-duty diesel engine block and cylinder head flexible processing line demonstration project" was approved in April 2013 as a "national major science and technology project" topic. On May 9, 2013, the project officially started. In accordance with the requirements of the project task book, Xichai cooperated with the partners to complete the digital modeling of the cylinder head cover production line and the 3D modeling of the production line, the lean management system tool life cycle management, the main module function development, vibration test and reliability data acquisition. The work of trials, etc., made every effort to promote the progress of the project, completed the research project in time according to the requirements, and the efficiency and effectiveness were unanimously approved by the participating experts.

Deutz Engine Diesel Generator sets

1.Famous engine&alternator
2.Reliable working

Alternator

Stamford, Leory Somer, Engga, Marathon, Siemens, ST/STC etc.

Rigorous testing

must be done before delivery, including 50%
load, 75%load, 100%load, 110%. And all protection function(over speed stop, high water
temperature, low oil pressure, battery Charging fail, emergency stop)

Warranty



The goods are under warranty against defects in material and workmanship for a period of 12 months or 1000 hours ,whichever come first from the date of delivery to the end user except the damageable spare parts of genset caused by incorrect man-made operation, and that the aforementioned warranty for the same taken is back up by the engine and alternator suppliers.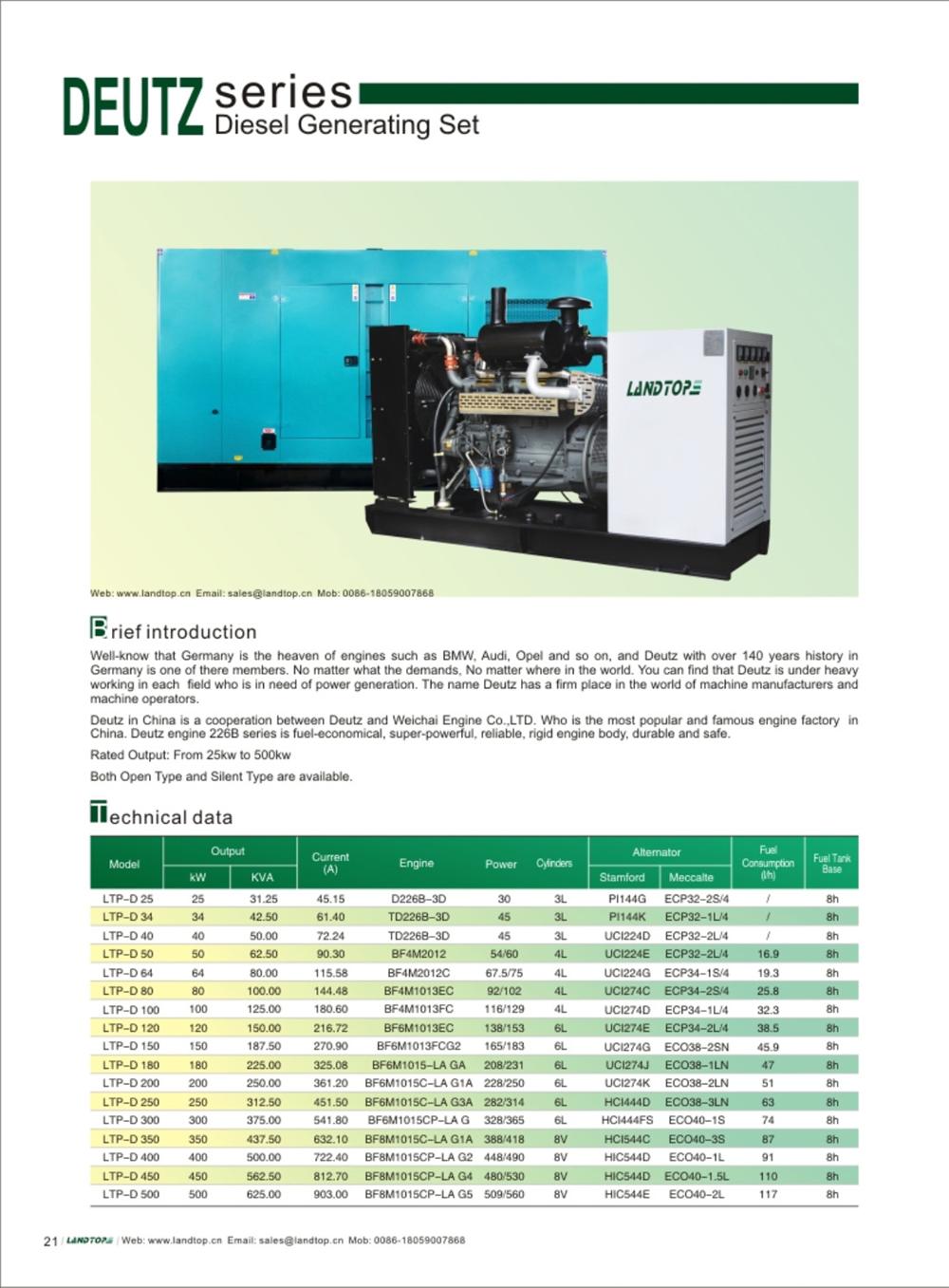 Deutz Engine Diesel Generator

Deutz Engine Diesel Generator,Deutz Diesel Generator,Deutz Diesel Power,Deutz Generator Set

FUJIAN TOPS POWER CO., LTD , http://www.landtopco.com