Model NO.: RDK

Nominal Flow-Rate: 6m3/H

Max Flow-Rate: 10m3/H

Min Flow-Rate: 0.06m3/H

Cyclic Volume: Vc :4dm3

Maximum Pressure Absorption: 200 PA

Minimum Reading: 0.002

Maximum Reading: 99999.999m3

Working Temperature: - 20 ~ +60 Centigrades

Weight: 7kg

Average Service Life: 10 Years

Trademark: RADARKING

Transport Package: Carton Box Packaged by Pallet, 4 Pieces in a Cart

Specification: CE, CCC, ISO9001

Origin: Wuhan

HS Code: 9028201000

G1.6/2.5/4/6 Wireless Household LPG Steel Case Gas Flow MeterSpecification:

The Commercial IC Card Intelligent Diaphragm Gas Meter serial products are applicable for many different kinds of flow volume range from G1.6 to G4. They are mainly designed for the business users and users in the catering industry (food & drink business).

The serial products adopt advanced technologic solutions such as the CPU card, the ESAM safety module and matching intelligent controller to meet the requirement of industrial grade product design. The installation & usage cost is lower and since they are the extremely optimized, therefore, the best selection to substitute other products with the same flow volume range.

Features:

1. Its subscription charge pre-collection and auto measurement functions have brought about the gas usage & administrative control automation.

2. Advanced technologic solutions such as the industrial grade MCU, liquid crystal display device and integrated circuit have been adopted for the control section of the meter.

3. Advanced devices recommended by the State Ministry of Construction such as the CPU card & ESAM safety module have been adopted for its IC card to bring about the multi-layer secret code key management, which has, in turn, laid a good foundation for the security, confidentiality, reliability of the system data, and has made it feasible that the one card may function in a multi-functional and a multi-purpose manner.

4. Its large screen liquid crystal display can display in Chinese language 6-digit gas flow digital information, including information "valve closed", "In sufficient gas amount", "malfunction", "low power" and "fake card", etc. In addition, automatic calendar information such as "year", "month" and "day"can also be displayed.

5. Its large capacity lithium battery design and the micro-power software & hardware design have been adopted to prolong the service life of its battery.

6. Itsreal time clock chip designed in the system can record user accumulative gas consumption and the gas consumption per day & per month. Can be transmitted to the gas company for analysis and statistics purposes.

7. Its battery power high-low status detection function has been designed within the control system for monitoring purpose. When the battery power is insufficient, the system alarms the user with the warning sign of "low battery" and reminds the user to change battery. If the battery electricity is used up, the valve shall be automatically closed and the gas supply will be cut off.

8. Its multi-fold safety protection function guarantees the safety & reliability of the system operation.

Specification:
Item
Technical specification
Flow Range
Q
Nominal
Qmax
Qmin
6m3/h
10m3/h
0.06m3/h
Errors of indication
0.1 Qmax £ Q £ Qmax
± 1.5 %
Qmin £ Q < 0.1 Qmax
± 3 %
Cyclic volume
Vc :4dm3
Working Pressure
Pmax: 70kPa
Maximum Pressure Absorption
P£ 200 Pa
Minimum Reading
0.2dm3
Maximum Reading
99999.999m3
Working Temperature
- 20°C ~ +60°C
Weight
7 kg
Average service life
10Years
FAQ:

Q1: Are you the factory?

A. Yes. We are factory.Wuhan Radarking Electrinics Corp. is the professional manufacturer of the high tech products with strong R&D capabilities. We are one of the few manufacturers in Hubei province whose annual production of electronic meters and water meters can be up to 6000000 sets. We have our own brand "RADARKING", also welcome the OEM/ODM.

Q2: Are you able to supply technical drawings and data sheets of the products?

A: Yes we can supply upon customer's request, please contact our sales.

Q3: Do we need an expert for the installation of your product?

A: No, it is not complicated to conduct the installation, we can help to instruct the installation as well.

Q4: What is your discount policy?

A: We will give discount according to the different Qty, delivery/payment terms etc, please contact our sales about it.

Q5. What is your quality control procedures?

A. Radarking get the strictly control of quality,which begin with material purchase and carry through to the end of the production process by ISO9001.Before shipping,welcome the examination of goods.

 

Q6. Are there any special requirements for OEM purchases?

A.Yes.We requires proof of trademark registration in order to print or emboss your trademark onto the product or packaging.

Working principle:

1. Both-way electric energy metering: provides precise positive-negative active energy metering and one-way accumulating; used for power metering and advance purchase of AC single-phase current rated.

2. Storage of leave-factory serial number, meter constants, initial data and the user's name and address.

3. Alarm and switch off when overload; alarm at low remaining power to remind user of timely purchasing.

 

Xixiang SKF Machinery specialized in the high efficiency Single Side Lapping Machine design, research, manufacture and sales.

Xinxiang SKF Machinery single side Lapping Machine are suited for all kinds of size parts, from small size to large size.

Production of these parts can be achieved from small quantities to high volume production.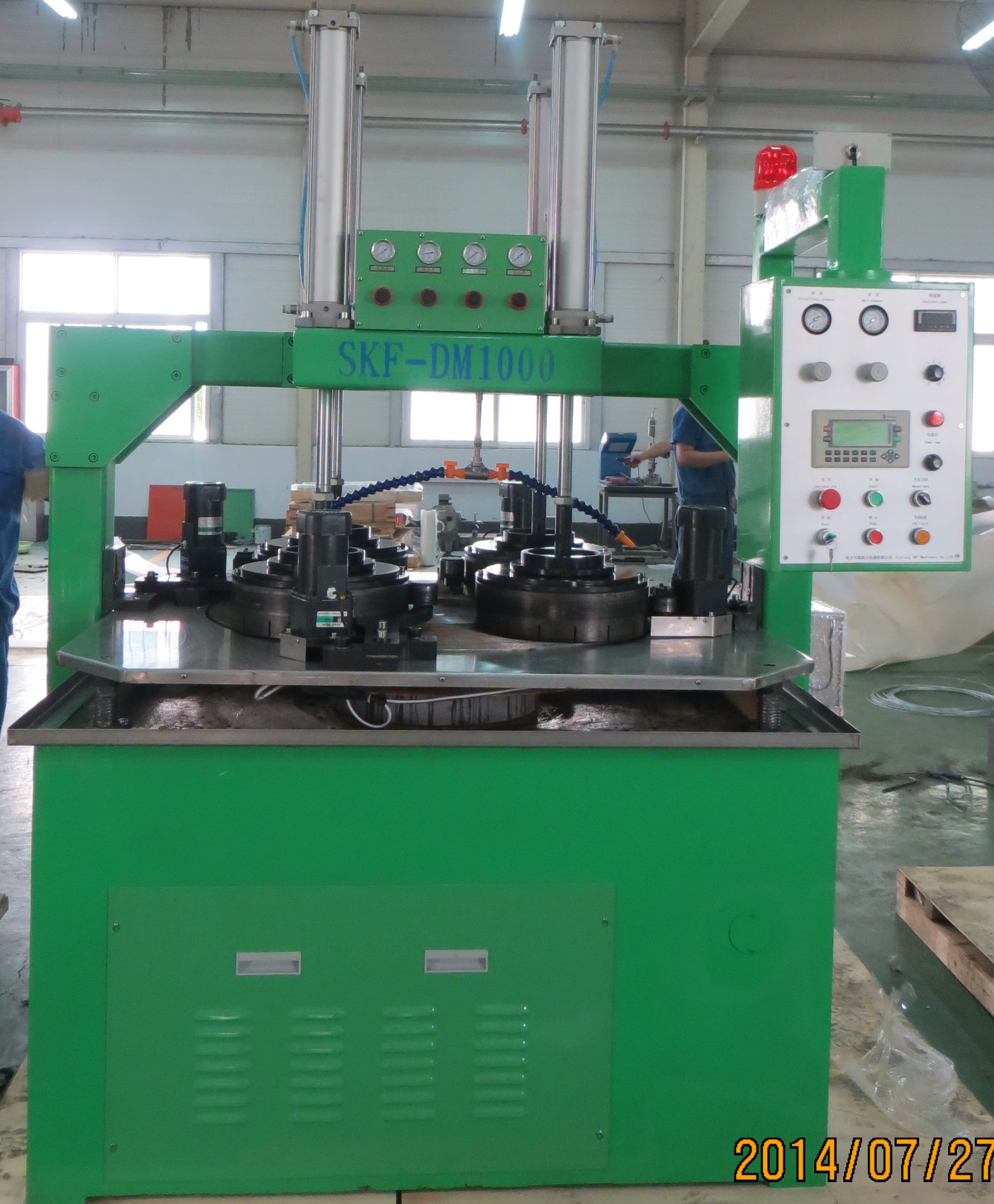 Single Side Lapping Machine

Single Side Lapping Machine,Lapping Machine,Polishing Machine,High Efficiency Lapping Machine

Xinxiang SKF machinery Co., Ltd. , https://www.finegrindingmachine.com